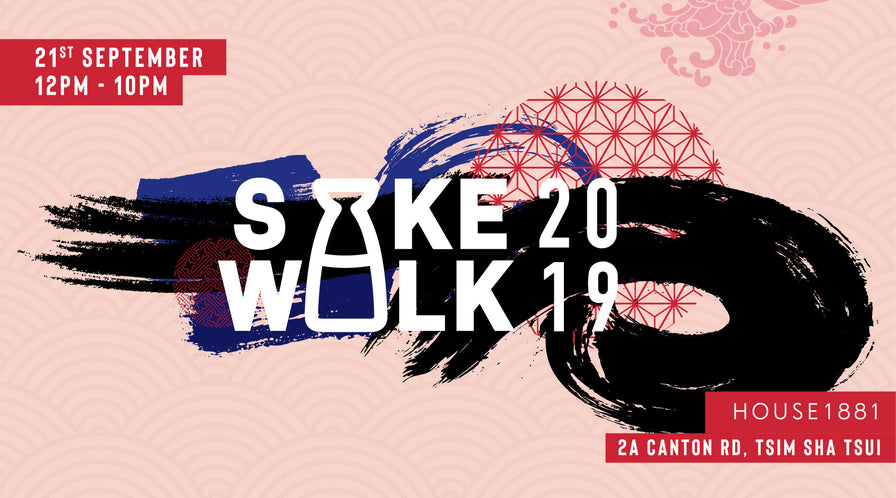 Calling all sake lovers, get ready for the largest sake event in Hong Kong!
This exciting event is not to be missed. Come and discover over 80 sakes from 14 premium breweries. You'll get the chance to taste and buy some of the most famous sakes in the world, as well as gain a better understanding of our incredibly diverse range on offer.
Booths are run by brewery owners and producers themselves, so you'll be able to hear firsthand about the unique characteristics of their sake ranges.
Our top recommendations:
Eiko Fuji from Yamagata Prefecture, well known for its unpasteurized sake.
Domaine Senkin from Tochigi Prefecture, popular for using the domaine concept with vintage variation.
Shichiken from Yamanashi Prefecture, celebrated for brewing high quality sparkling sake using méthode champenoise.
Juyondai from Yamagata Prefecture, the world's most famed sake. (Jebsen Fine Wines is the official Juyondai overseas partner for the Hong Kong market.)
Raifuku from Ibaraki, notable for their use of flower yeast.
Zankyo from Miyagi, pioneers for the high rice polishing ratio, especially 7% Zankyo.

Date: 21st September, 2019 (Saturday)
Time: 12pm to 10pm
Venue: House 1881, 2A Canton Road, Tsim Sha Tsui, Kowloon
Ticket Options: Entry only - HK$100
Entry ticket & 10 tokens - HK$280
  
---
Sake Talk - Join a Sake Masterclass!
Learn how to enhance your sake experience by complementing your drinks with delicious food. Our food pairing tips will demonstrate the versatility of our sake and the diverse range of food options that match perfectly.
Have you ever been curious about what sake is made of or how it's produced? Or just wondering how to drink it correctly? If you're interested in becoming a sake pro, then this is for you. Spaces are limited, so remember to sign up for our masterclass when you purchase your ticket.
Topic: How Sake is made
Discover the essential ingredients and distinctive brewing methods used to produce quality Sake.
Language: English
Date & Time: 21st September, 2019, 12:30pm – 1:30pm
Topic: Sake 101
A beginner's guide to the wonders of Japanese Sake
Language: Cantonese
Date & Time: 21st September, 2019, 2pm – 3pm
Topic: Koji and it's impact
Learn about the magic of Koji and its impact on sake flavour and aroma
Language: English
Date & Time: 21st September, 2019, 6:30pm – 7:30pm

Our masterclasses are hosted with our partner AWSEC (Asia Wine Service & Education Center), who have over 20 years experience providing wine education to both trade and the public.

Corinne Mui (DipWSET, B.Com, M.Com)
Corinne Mui is the Chief Operating Officer and Senior Wine Educator of Asia Wine Service and Education Centre (AWSEC®). She is a certified WSET sake educator, a certified Sake Sommelier, and was awarded "Sake Ambassador 2018" by SSA.
In addition to wine education, Corinne is actively involved in wine judging competitions, has been a guest on TV and radio programmes and regularly contributes articles to local publications.
Corinne's formative years were spent travelling extensively through some of the world's major wine regions where she met a lot of experienced wine professionals from around the world and is now dedicated to sharing her experiences and discoveries.

Stephen Mack (Dip WSET, FWS)
Stephen Mack is the CEO of Asia Wine Service and Education Centre (AWSEC®) which is also the first centre in the world authorised to launch the WSET Level 3 Award Sake programme.
Stephen holds a Diploma from the UK's Wine & Spirit Education Trust® (WSET®), is an Advanced Sommelier with the Court of Master Sommeliers, a French Wine Scholar (with Highest Honours), Barossa Master Educator and a Kikisake-shi (Master of Sake).
As a renowned wine, sake and spirit educator, Stephen has given presentations all over the world. He has selected the wines for an international airline, judged in numerous wine and spirit competitions, conducted tastings for corporate clients, trained staff all over Asia, as well as had articles published in various

Classes feature a 60-minute talk followed by a guided tasting of 4 sake varieties.
Venue: Royal Room, 1/F, House 1881, 2A Canton Road, Tsim Sha Tsui
Price: HK$140 (incl entry ticket)
---

Sake Eat - Dinner
People always say sake is perfect to pair with Japanese cuisine but It is not true at all. Sake is good to pair with different kinds of cuisine especially when the delicacy of sake meets fine dining, you will be surprised indeed.

You are cordially invited to attend our fine dining sake pairing dinner at 1881 that you can taste 8 kinds of premium sake from different Prefectures. All brewery owners will join the dinner and share the brewing philosophy with all guests.
Date: 19th September, 2019 (Thursday)
Time: 7:00pm - Welcome Drinks; 7:30pm - Dinner
Venue: Café Parlou, House 1881, 2A Canton Road, Tsim Sha Tsui, Kowloon
Price: HK$1,800 + 10% Service Charge
Come join us. You'll find delicious food, entertainment, and of course plenty of sake to take home too! 
Date: 21 Sept, 2019 (Saturday)
Time: 12:00 pm - 10:00 pm
Venue: House 1881, Tsim Sha Tsui, Hong Kong Google Map
Price: Please pay attention to the fees for each event
---
---
---