10 Best Wines For Your Christmas 2020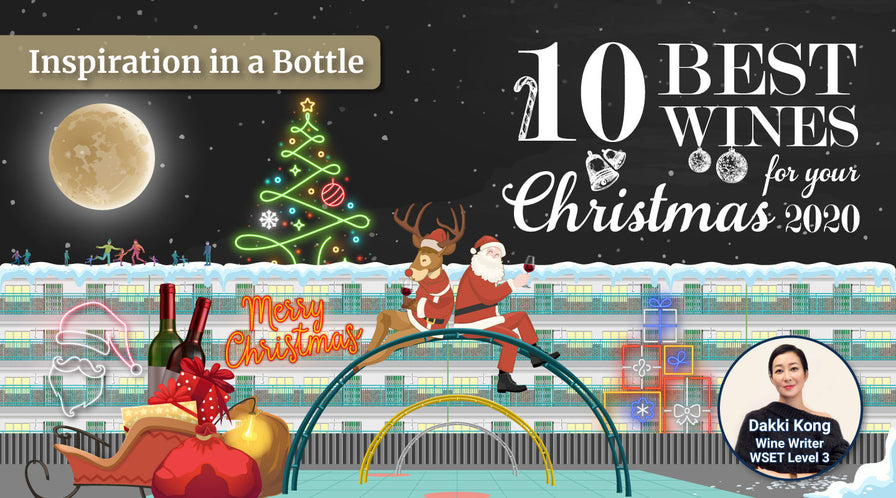 Text: Dakki Kong
This Christmas is going to be different.
Though you can't throw a big party, you could still get yourself into the festive Christmas spirit. With countless festive foods in town delivered to your door, spend this Christmas at home with few loved ones or reward yourself for withstanding the tough year with some drinking pleasure from these quality wines.
1. Bollinger PN VZ15
You can't kick off a celebration without popping a Champagne. Renowned for its pinot dominant style and oak-ageing character, this prestigious Bollinger is 100% pinot noir harvested mainly from Verzenay, that's what "VZ" represents on the label. Gorgeously rich of white flowers and peaches. Smooth with scents of hazelnut and toast. This magnum size is dangerous but good for Christmas drinking. Sip it with a cheese platter or a charcuterie board. Or sip lavishly on its own.
2. Ayala Brut Majeur
A member of the Bollinger family, the historic Ayala produces the exquisite Brut Majeur as an iconic ambassador wine. Lovely fresh citrus and apple notes. The signature crisp and elegant style is perfect for making the classic festive cocktail, Kir Royale. Simple pour crème de cassis to a flute glass, top up with Ayala Brut Majeur and garnish with a fresh raspberry.
3. Foss Marai Millesimato Prosecco DOCG Superiore di Cartizze Dry
If you'd enjoy floral notes, Foss Marai Prosecco unveiling scents of white flowers, acacia and rose is your thing. In case you're planning a little Christmas brunch at home, think Bellini. The fruity tipple is traditionally made with Prosecco as it's a cocktail named after the Venetian painter called Giovanni Bellini during the Renaissance. Add peach nectar juice to a flute and top off with Foss Marai Prosecco. Easy to make. Easy to gulp.
4. Chateau Rieussec 2009, 1er Cru Classe, Sauternes
To French, Christmas is time to feast and splurge. As a festive treat, having foie gras with a glass of Sauternes as hors d'oeuvres is nothing too extravagant at a regular French table. Remember to clean your palate before proceeding to the main course. Chateau Lafite Rothschild's sister property, Chateau Rieussec with the Premier Grand Cru Classe is beautifully balanced, showing lively tropical fruitiness with a long-lasting finish. It's a delight with foie gras.
5. Chanson Le Maconnais Pouilly Fuisse 2015
This juicy and delicate Chanson Le Maconnais Pouilly Fuisse delights you with its subtle minerality, appetising almond aroma and white peach notes. To pair with a succulent roast chicken with garlic, herb and butter, this chardonnay is always a safe bet on any of the big Christmas days.
6. Chanson Gevrey Chambertin 2013
Every Burgundy fan is familiar with Gevrey Chambertin, one of the renowned Burgundian villages loved for its aged pinot noir with charming nuances of mushroom, cherries, berries and red flowers. The highly aromatic and bolder style of this fine-textured Chanson Gevrey Chambertin is food-friendly with the turkey served with rich and herbal gravy or cranberry sauce.
7. Chateau Minuty M de Minuty Rosé 2019
Actually the festive Christmas feast is not the only option. Enjoying a seafood hotpot in the comforts of your home around Christmas is also satisfying, especially when the temperate drops.
In case you're not a beer fan, try your seafood feast with a bottle of Chateau Minuty. M de Minuty Rosé boasts luscious berry appeal with pleasant minerality and acidity, ideal for quenching your thirst, cooling your tongue and exceptionally matching with the freshly caught and gently poached seafood.
8. Penfolds St Henri Shiraz 2017
Australian wines always enjoy popularity among wine lovers. So how can we spend the holiday without Australian wines? Scoring over 95 points from both James Halliday and James Suckling, Penfolds St Henri Shiraz 2017 offers plush and intense flavours on the nose and palate. This dark-fruited spicy delight is a reliable companion to the lamb racks with peppers or grilled lamb skewers. 
9. Cousino Macul Cabernet Sauvignon 2017
Mulled wine was the hot beverage the Ancient Romans drank to withstand the cold winter. Sweden was the first country that celebrated Christmas with mulled wine. The ideal wine for preparing mulled wine has to be high alcohol, high tannin with lots of fruits. That's why a rare bargain such as Cousino Macul Cabernet Sauvignon fits the recipe. Heat the wine and follow the tradition by adding orange slices, cloves, cinnamon, star anise with a drizzle of honey to warm your spirit.
10. Taylor's 20 Year Old Tawny
Who wouldn't love a sip of a sweet and fulfilling port with a bit of age on a winter evening? The amber-hued Taylor's 20-year-old tawny brings not only concentrated aromas of marmalade and assorted nuts but also a great and silky imprint on the palate with a long mellow finish. Pair this port wine with a slice of Christmas pudding made with dried figs, apricot, raisin, citrus peel and sweet spices. If they're not a perfect match. What else could it be?
---