10 Best Wines to woo the one you love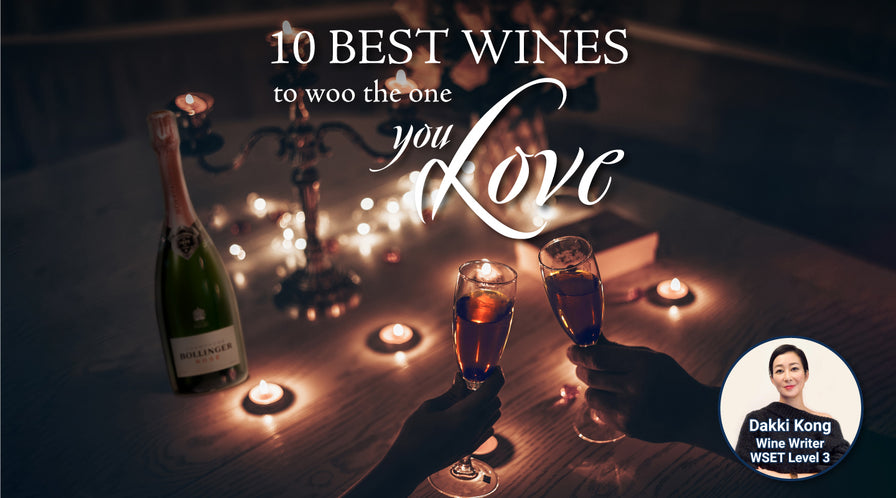 Valentine's Day is coming and everyone is looking for a wine for the perfect date. This year, it'd be better to spend Valentine's Day in than hitting a fancy restaurant. Order delivery of a well-selected bottle and show your love by preparing an intimate dinner or your signature dessert at home to brighten the mood of your special one. The wine writer, Ms Dakki Kong will recommend 10 best wines to woo the one you love. 
Ayala Blanc De Blancs 2015
This Champagne is synonymous with the purity of your love. Made of 100% Chardonnay. 100% perfectly ripened grapes harvested from the Grand Cru and Premier Cru villages of Cotes Des Blanc. Very limited as it's only produced in good years. Extremely fine bubbles. Elegant, fresh and diversely aromatic like white-blossomed flowers, yuzu zest with light flashes of ginger. Try it with fish ceviche or seafood risotto.

Bollinger B13 2013
Even 2013 is a tough year for Champagne, Bollinger managed to produce this outstanding cuvée made with high-quality pinot noir. If that's also your story, B13 is a Champagne for both of you.
The finest bubbles to taste on the V-day evening. The intense fruitiness of peach and plum is laced with almond and apple tart. A taste of absolute heaven. Perfect as a gift or a wine for a candlelight dining.

Bollinger Rosé
The charming pink featuring a bright and golden hue of this Rosé Champagne seems designed especially for V-day. Showcasing the elegant and delicate Bollinger style, this pink bubbly is made with the top-quality blends of grapes with the adjunction of 5% red wine, followed by extra-long ageing time. Bursting with wild berries on both the nose and the palate. Balanced and velvety in your mouth. It works perfectly well alongside the lobster dish, seared salmon, Japanese sushi delivery or any fruit-based desserts like fruit tarts or apple pie.

Robert Mondavi Reserve Cabernet Sauvignon 2011
If this intense wine is not for the couple deeply in love, then which wine else would be? Made with grapes from Napa Valley's grand cru vineyard site, this Robert Monday Cabernet Sauvignon expresses complex and intense fruits like blackberry and blackcurrant with hints of tobacco and cinnamon complementing its rich texture. If you plan to pan-fry a heart-shaped steak for your sweetheart, this is the most satisfying wine to match it. It also tastes great with a hearty Bolognese spaghetti or grilled baby back ribs.


Flechas De Los Andes Gran Corte 2017
Smooth, harmonious and long-lasting. Yes, we're talking about your relationship but also this Malbec from Argentina. You could enjoy a good structure and well-fruited palate together with a memorable finish at an affordable price. With notes of vanilla, liquorice and black fruits, Flechas De Los Andes Gran Corte is impeccable for your Valentine's Day movie night and goes well with pizza, burger, French fries, barbecue foods or even chocolate mouse cake.

Chateau De Berne Romance Rosé 2020
There're too many reasons to drink Rosé on Valentine's Day including its romantic colour and food-friendliness. Also, it's an excellent choice if you guys cannot decide between white or red wine to drink on the special evening. Chateau De Berne gives you extra reasons to pick this Rosé. It has the name "Romance" on the label and every sip is filled with intense notes of fresh fruits such as strawberry with cream and summer peach. If you two plans to have seafood dishes on Valentine's Day, this is a wonderful choice.

Leon Beyer Gewurztraminer 2018
We all agree receiving a bunch of flowers is delightful on any occasion. Then what about a bottle of wine featuring rich aromas of flowers, like lychee and rose? This floral Leon Beyer Gewurztraminer is a classic dry Alsace wine, tasting slightly piquant like white pepper on your palate. Excellent vitality. In case you guys are big fans of Asian foods, such as Thai curry crab or green curry fish, this wine is a perfect match.

Chanson Chablis Montmains 2020
Many lovers look for purity and simplicity in a relationship and so do wine lovers when it comes to picking a wine. Harvested from the Premier Cru Montmains vineyard located south of Chablis, Chanson Chablis Montmains brings very fresh aromas of lemon and green apple. Clean, crisp and well structured. The lingering mineral nuances make it pair famously with oysters, scallops, goat cheese and French fish dish.

Sidewood Mappinga Shiraz 2015
Shiraz fans definitely know Adelaide Hills of South Australia is home to some of the world's greatest vibrant and spicy Shiraz. Sidewood Mappinga Shiraz garnered high ratings from the respected Australian wine critic James Halliday. Spicy, bold and concentrated. You could taste the dense palate of fresh ripe plum, tarragon, laced with warm spices like star anise. Someone said it's like dark chocolate, tobacco and violet. You'll find out why this chewy and complex Shiraz is a good companion for lamb chop, Peking duck or honey-glazed barbecue pork.

Penfolds Bin 23 Adelaide Hills Pinot Noir 2016
Pinot Noir always tops the list of Valentine's Day wine list because it's sexy, alluring, smooth and lush. A nice mellow pinot noir such as Penfolds Bin 23 with masses of grapey fragrance is quite versatile with a chicken prepared in both Asian and Western style, like chicken with ginger and scallion, Kung Pao chicken, tandoori chicken, grilled rosemary chicken breast or coq au vin.

Set the stage to celebrate love especially in difficult times and treat you sweetie to a delightful and romantic meal at home.

Terms & Conditions:
1. This promotion is valid from 7 Feb to 14 Feb, 2022.
2. Non-members can enjoy 15% off storewide and Jebsen Fine Wines members can enjoy 25% off storewide. Jebsen Fine Wines members purchase upon HK$800 can get a HK$100 off coupon and enjoy free delivery.
3. The HK$100 off coupon will be sent to the member registered email on 21 Feb 2022. Terms and conditions apply. For details, please refer to the terms and conditions in the email.
4. The offer is not applicable to fixed price items and fixed discount items and cannot be used in conjunction with other promotions. For exclusion list, please click here for details.
5. The offer is available on a single order basis.
6. Once the order is made, the product(s) is/are non-returnable & non-exchangeable.
7. The offer is on a first-come-first-served basis while stocks last.
8. Jebsen Fine Wines reserves the right of final decision in case of dispute.
---