9 Fun Christmas festive drinks to make at home 2021 - From beginner to expert level DIY cocktail recipes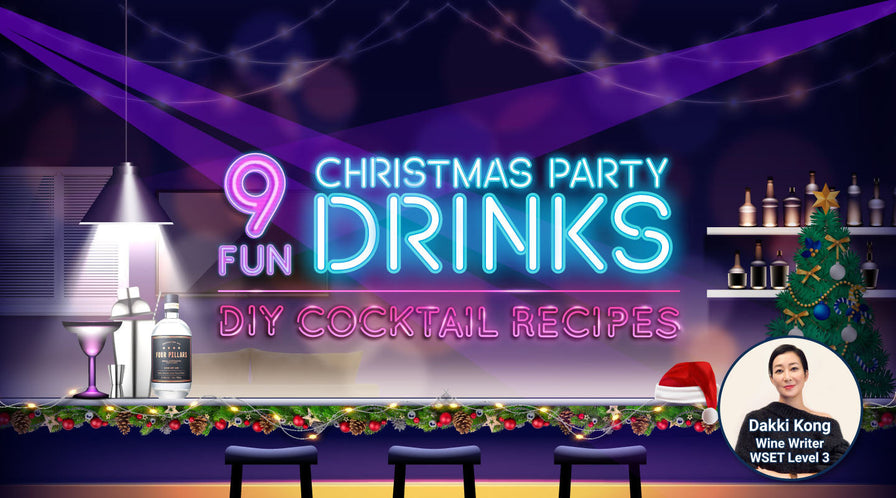 Celebrate 2021 Christmas and New Year with some festive cocktails at the comfort of your home while inviting your best friends over to savour together. Do not worry about the mixology techniques as we have everything from beginner level to expert level for you. 
Beginner
1 Cosmopolitan
Who doesn't like a Cosmopolitan at a bar? Now you can make one at home since the recipe is actually not as complicated as you think. The rose-hued colour instantly sets the festive vibe for Christmas while the stylish martini glass adds an elegant touch to your party especially when all your guests are dressed up. What you need is simply vodka, triple sec, cranberry juice, lime juice and some ice cubes. Shake them all well in a cocktail shaker and strain into the martini glass. Don't forget a cranberry or lime twist. Fruity with a balance of sweetness and citrus flavour.

2 Chocolate martini
Boozy, sweet and smooth, the Chocolate Martini is a hit for Christmas parties. It gives you a chance to shake the shaker in front of your guests. Shake well Crème de Cacao Dark Liqueur, gin, cream and ice, and strain into a chilled martini glass. Top with whipped cream and cocoa powder. Replace the liqueur with Crème de Cacao Blanc Liqueur if you want a vibe of white Christmas. Why not use both to create a classy layered martini?

3 Christmas punch
If you cannot decide which cocktail to prepare for a Christmas drink party, Christmas Punch is the answer. A large bowl of bright red-hued beverage topped with orange slices and cranberries. Lovely and dangerously easy to drink. Truly crowd-pleasing. The recipe combines cranberry juice, sparkling wine, ginger ale, rum or vodka, and lots of ice. Nothing complicated.

Intermediate
1 Bellini
A fizzy sparkling drink is always a good match with your Christmas party! Get in the party spirit with a glass of Bellini. The classic Bellini is made of fresh fruit purée and Prosecco. Here, let's make a boozier version for the festive season. Prepare a mixture of fresh peach purée and Peachtree liqueur or Apricot Brandy Liqueur in advance. When your guests arrive, place a spoon of the mixture into a flute glass and top up with Prosecco. Garnish with a mint sprig. Completely hassle-free.

2 Glögg
Many of us might have tried and fallen in love with mulled wine during Christmas. This year try the Swedish version of mulled wine, Glögg. The name means "glow" in Swedish and it truly makes your skin "glow" as it contains much more booze in the mix. The authentic recipe uses a generous portion of Scandinavian potato spirit called Aquavit and here we replace it with vodka. Boil red wine, sugar, orange zest, cardamom, ginger, cinnamon, cloves and finally raisins and almonds. Remember to serve with a spoon for eating the raisins and almonds.

3 Hot toddy
A perfect drink to warm up your guests upon arrival and an all-time favourite drink around Christmas or cold months. Invented in Scotland in the 18th century, this whiskey-based Hot Toddy is believed to be a cough and cold remedy. Simply put whiskey, lemon and honey and spices like cloves, star anise, nutmeg. Finally, add boiling water and a cinnamon stick for garnish.

Advanced Level
1 Hot buttered rum
A traditional beverage the Americans drink in the fall and winter, especially during the holiday season. It's a perfect welcome drink when your guests arrive from the outside cold weather. Hot, rich, boozy and instantly warming up bodies and hearts. To prepare this hot cocktail classic, mix butter, brown sugar, ground cinnamon and nutmeg well over low heat. Put a tablespoon of batter into a glass, followed by rum and boiling water. Garnish with a cinnamon stick. This warming drink takes rum to the next level.

2 Tom & Jerry
If you're a fan of Christmas eggnog, you'd probably love Tom & Jerry. It's a boozy version of eggnog but served hot, spiked with cognac and rum. The cocktail does not come from the mouse duo cartoon but from a novel about two men carousing in London in the 1820s. The drink involves a bit more work, including beating yolks with sugar and spices, whipping egg whites until stiff, and combining them together. To serve the drink, add cognac, rum and some batter, followed by hot milk and nutmeg sprinkles. A potent but fluffy treat. Or make your own creations with different fruit-infused brandy liqueurs.

3 Christmas Gin Fizz
One of the most classic cocktail recipes, Gin Fizz might be too simple for Christmas. Let's give it a twist and make a Christmas version. Prepare cranberry syrup by cooking cranberry juice and sugar over low heat and chilling it in the fridge. Shake gin, lemon juice, cranberry syrup and egg white (optional) well and strain into a flute glass. Top off with soda water and decorate with a rosemary sprig and two cranberries. You'll get a charming pink cocktail.

Enjoy and bottoms up!


---