Brand of the Month - Bollinger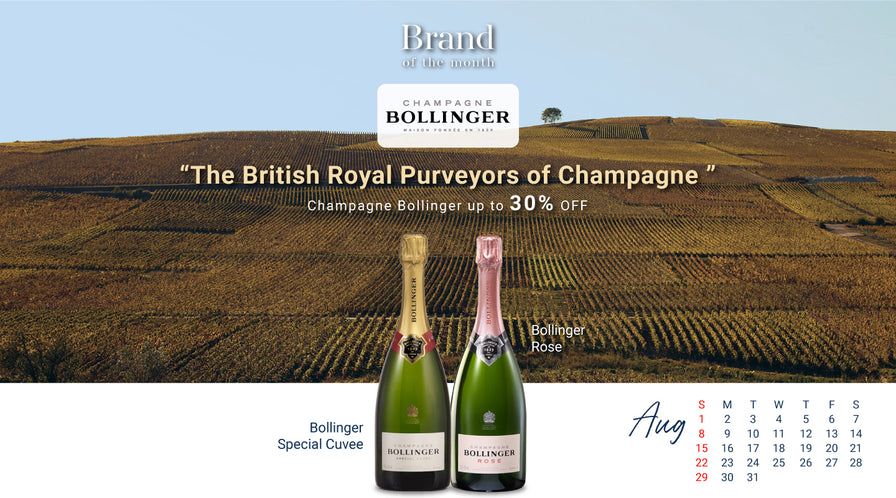 As a Champagne preferred by James Bond, there must be something special about Bollinger. Champagne is produced with three designated grapes from the region, namely Pinot Noir, Chardonnay and Pinot Meunier. Bollinger is distinctively made in a Pinot-dominant style, while 80% of the grapes are sourced from Grand Cru and Premier Cru villages in Champagne region. This brings the Champagne a beautiful aromatic complexity, structure and ripe fruit flavour. Apart from frequent exposures in numerous Bond movies, Bollinger is the official supplier of Champagne to the British Court, since Queen Victoria granted the Champagne house its Royal Warrant in 1884.
When most Champagne houses keep modernizing the winemaking process, Bollinger refuses to be conventional. It sticks to its traditional and the longer cask fermentation with the use of 110-year-old barrels. This exquisite Champagne house blends the harvest grapes with its reserve wines aged up to 15 years and that's how the Special Cuvée is born. You would not forget its subtlety, stewed apple notes, and earthy-spicy character.

Bollinger Special Cuvee
A golden colour, distinctive of black grape varieties; very fine bubbles. A beautiful aromatic complexity; ripe fruit and spicy aromas; hints of roasted apples, apple compote and peaches. A subtle combination of structure, length and vivacity; bubbles like velvet; pear, brioche and spicy aromas, notes of fresh walnut.
Bollinger Rose
A bright rosé with subtle golden hues. The nobility of red berries: hints of red currant, cherry and wild strawberry; a spicy touch, not unlike Special Cuvée. A subtle combination of structure, length and vivacity, with a tannic finish due to the adjunction of red wine; bubbles as fine as velvet; flavours of wild berries.
---