The Romance of Slow Maturation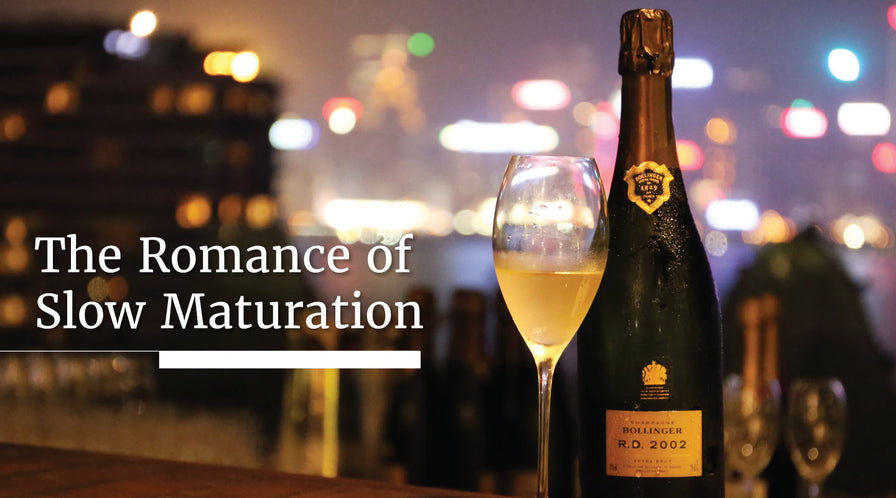 Champagne is divinely incomparable, because of its unique attribute: bubbles. When compared to Rosé or white wine, Champagne is full of dynamic and charisma; it is totally different from spirits as Champagne is a light and exquisite alcoholic drink with a humble level of alcohol.
Though Champagne is classified as sparkling wine, which is the same category as Prosecco and Cava, despite the similar winemaking process as the latter, thanks to the cool climate and exceptional terroir of the region, the three major grape varieties with distinctive characters respectively: Chardonnay, Pinot Noir and Pinot Meunier, plus an uncommon winemaking process that involves extended ageing, Champagne stands out with class like an art piece.
All Champagnes must undergo two fermentations, with the second one happening in the bottle. The winemaker will add yeasts, sugar, yeast nutrients and clarifying agents into the bottle prior to the second fermentation. Upon completion of fermentation, the carbon dioxide will dissolve in the wine, and the dead yeasts become lees. A prolonged on-lees ageing will enhance the body and complexity of the wine, such winemaking technique makes Champagne extraordinary.
During the second fermentation, yeast cells decrease over time. While the amount of sugar reduced, temperature and pH level remain low, yeast cell will start to consume their energy reserve like glycogen then swell, and this is the beginning of the long-term yeast autolysis ageing process, which lasts from fifteen months to many years. Yeast autolysis is a repetitive cycle of cell walls breaking and self-consumption that takes place over a long period of time, mannoproteins are being released amidst this course, which contribute to better mouth-feel and finer quality of bubbles. By this time, more amino acids and oligopeptides are released, this causes the idiosyncratic toasty and nutty character in Champagne. Last but not least, a significant amount of fatty acids is released, and thus lead to the creation of more esters and aldehydes, intensifying the perfumed aromas of Champagne.
"Yeast autolysis" is a chemical, scientific, profound, but magical winemaking process, and the result is an amazingly romantic one that worth relishing.
---