Packing for the Perfect Picnic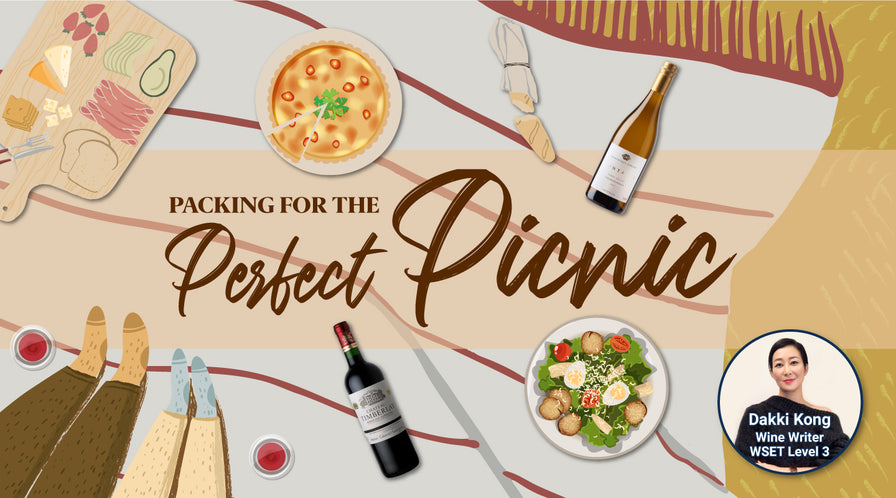 Text: Dakki Kong
As we're all in the quest for fresh air and socially distanced activities, it is no surprise we're all turning into picnic lovers on the weekends.  Many know that picnic originated in France and the French word "pique-nique" is where the word "picnic" actually comes from. Let's pack our picnic basket and add some French touch! You can instantly turn a casual gathering into an ultimate luxurious alfresco dining experience by pairing wines to your picnic snacks. Grab your favourite patterned tablecloth and fill the basket, then you're good to go!
Salad
It's always good to have some slightly chilled salads to start with under the warm sunshine. You're recommended to bring pasta or vegetable salads such as Mediterranean fusilli salad with red kidney beans, black olives, Feta cheese and tomato; potato salad with chickpeas, bacon, chives; or beetroot salad with cottage cheese, dill and parsley; while avoiding summer fruit salad with heavy mayonnaise or creamy dressing as it easily turns watery if taken out of the fridge to outdoor spaces.
To match these salads made with vinegar- or lemon juice-based, we'd better pay attention to the acidity and herbaceous component in wine. Make sure the acidity of the wine exceeds the acidity in the salad dressing. Chardonnay and Sauvignon Blanc from Italy, France, the US and Australia could do the trick while the grassy Sauvignon Blanc works best with herbs in salads.
Quiche
The masterpiece on the picnic cloth is always a family-sized quiche. Slicing and sharing the pie on the lawn is one of the great joys of picnicking. And the crusty pie is equally delicious served either warm or cold. You're given many options when walking into a deli shop. Spinach quiche, tomato and mushroom quiche, and onion and cheddar quiche. To be more French, let's bring the authentic French classic, Quiche Lorraine. The ultimate recipe is made with a buttery shortcrust and a filling consisting of eggs, milk, crème fraîche, double cream, lardons and gruyère cheese.
To upgrade this outdoor dining experience, open a bottle of dry Alsace Riesling, crisp Provençal rosé or light-bodied reds like Beaujolais for their awesome acidity and fruity characters to cut through the creamy and cheesy flavour and keep your palate refreshed. Burgundy reds or any soft young Merlot offer similar enjoyment. My best experience was a pairing with Champagne that elevated the buttery and biscuity aroma of the flaky custard-filled pie.
Bread
A good picnic is not complete without good bread. Head to your nearest bakery for a freshly baked baguette, a loaf of sourdough or pain de Campagne. Of course, the baguette is more preferred for mimicking a Parisian style as the baguette contributes a lot to your Instagram photos. Enjoy a bread slice with any of the French pâté, terrine and rillettes.
For the wine pairing, again, acidity is still key because these types of paste are high in fat content. So look for fruity options with bright acidity like Crus de Beaujolais, basic Bourgogne, and Valpolicella. For the more delicate duck rillettes, replace the options with a delicate Pinot Noir or a more rounded Chenin Blanc. Do not forget your ice pack or ice cooler bag to keep these wines chilled.
Snacks
To many picnic lovers, snacks are their main course. It's also time to show off your fascinating hardwood charcuterie board and your work of art to carefully arrange all your favourite nibbles on it. The key is an Instagram-able presentation with vibrant and rich colours. Generally speaking, it should thoughtfully include two to three cured meats, such as Jamón Ibérico, chorizo and salami; seasonal fruits like pear, fig and muscat grapes; at least one soft cheese and one hard cheese to fit all palates, says brie, camembert, Emmental or smoked gouda; fresh vegetables such as cherry tomato, sliced cucumber, or crudité which means carrots, celery or bell peppers pre-cut into sticks and served with some dipping sauce like a classic chickpea hummus, cheddar cheese spread or a sour cream sauce. Feel free to add crackers, assorted nuts, dried fruits, pickles and olives.
It can be an ordeal to pair wine with such a great variety of textures and flavours. Though you could keep drinking lighter wines like Pinot Grigio, Sauvignon Blanc, Côtes du Rhône Blanc, Crozes-Hermitage Blanc or Beaujolais Villages for the soft-ripened cheeses and fresh produce, the other saltier semi-hard cheeses and cured meats on the board require support from some aromatic whites, rosé or medium- to full-bodied reds with more structure and intensity, such as medium-bodied rosé including those from Tavel, Tuscany and Bordeaux, Chianti Classico, Valpolicella, cru Beaujolais, or even young Crianza Rioja.
If you'd plan to carry a light basket, go for bubbles as they never go wrong with any meals. A bottle of nice Prosecco or Champagne brings you refreshing acidity and fresh fruity scent while its bubbles surprisingly dissipate the robust taste of the nibbles in your mouth.
Glasses & Corkscrew
Last but not least, if you're not buying a screwcap wine, remember to bring a corkscrew with you. Otherwise, you have to perform how to slap out the cork with your shoe in public. For the drinkware, give up paper cups and go for a wine glass. Not only does it save the planet, it's also essential for your swirling and smelling on the lawn. You don't have to bring Zalto Burgundy glasses but a standard tasting glass can do the job. Or a stemless bowl if you insist.
Happy picnicking!
---